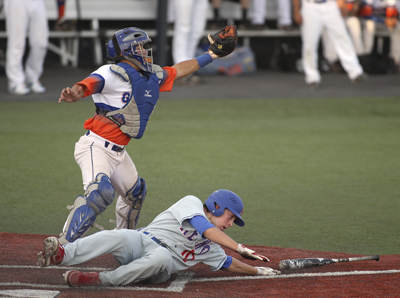 RENO — Bishop Gorman's baseball team found itself in an unusual position Friday night, as the Gaels fell behind 6-1.
Yet Gorman ended up right back in a familiar spot: the Class 4A state championship game.
The Gaels rallied for a 7-6 win over Reno at UNR's Peccole Park to advance to Saturday's final.
"I thought we got tight for a little while when Reno jumped out to the big lead," Gorman coach Nick Day said. "I felt like we took some swings we don't normally take. After a couple innings, we finally relaxed, took some better swings and fortunately got some balls to drop, fall in and scored some runs."
Gorman (38-3) will play Coronado (29-9) in the final at 3 p.m. Saturday at UNR. Should Gorman lose, a second game would be played to determine the title.
Day gave senior Cameron Cole the start on the mound, and Reno jumped all over him, scoring three runs in the first on an RBI single by R.J. Bush and a two-run single by Jeremy Peterson.
The Huskies added two runs in the second, chasing Cole after he gave up a two-run double to Grant Kukuk. Cole lasted only 1 1/3 innings.
"He's been great all year. He earned that start," Day said. "He hasn't had a bad outing until this one. Really, he just couldn't get the ball down and was throwing everything belt high. I hate to see him have that outing today."
Reno added a run in the third on an RBI single by Garrett Hampson to take a 6-1 lead. By then, the Huskies had outhit the Gaels 10-2, with Gorman held to back-to-back doubles by Cody Roper and Michael Blasko in the second.
But Gorman finally got going in the fourth, scoring four runs to make it 6-5. Johnny Sewald had an RBI single, Kenny Meimerstorf added a two-run single and A.J. Van Meetren walked after Reno gave Gorman star Joey Gallo an intentional pass to load the bases.
"It's all about momentum," Gallo said. "They had the momentum the first couple innings and they kept piling on runs, and piling on runs. And then we started getting some momentum and some guys on base and started having good at-bats."
Roper walked to lead off the fifth, and Blasko drove in pinch runner Tommy Field with a triple to tie the game. Tyler Baker then lifted a fly ball to deep right to score Blasko with the go-ahead run.
Blasko, the Gaels' No. 8 hitter, was 3-for-3 with two runs and two RBIs.
"A couple of our guys that we get a lot of production from we didn't get it from tonight, and Joey didn't really get anything to hit," Day said. "But the bottom of our lineup has been really good. To be honest, it's probably as good as the top of our lineup. And that's what makes us a good team."
Reno got a leadoff single by Zach Paquette to start the sixth, and Day turned to Gallo to close it out.
Gallo, projected as a first-round draft pick as a third baseman, took his strong arm to the mound, where he was clocked as high as 97 mph, and he struck out all three batters he faced in the sixth.
Gallo walked two in the seventh, but got two strikeouts and induced a game-ending pop-up.
"That's pretty much what we've been using him for," Day said. "It's great to have a guy with stuff like that come in and shut the door for you in a tight situation."
Gallo also mixed in a big-breaking curveball, which he was able to throw for strikes to keep batters off balance.
"His curveball is outstanding," Day said. "Sometimes when you throw as hard as he does, you just think you're going to throw it by everybody. But he came out and really pitched tonight, and that curveball was maybe even better than his fastball."
Sewald was 2-for-4 with a run and an RBI for Gorman, which is seeking its seventh consecutive state title.
"This win right here was huge, because now we've got to be beat twice," Gallo said. "It feels good to come back and now we've got another shot at the championship."
Kukuk went 2-for-4 with a double, a triple and two RBIs for Reno, which outhit Gorman 13-9.
"This is where we want to be," Day said. "We had two real close games to get here. We've definitely been tested. But this is the spot you want to be in and we've got some good arms left and we're excited."
Coronado 7, McQueen 5 — Chris Johnson was 2-for-2 with a double, two runs and two RBIs as the Cougars eliminated the Lancers (27-8) earlier Friday.
Coronado took control with a four-run third inning, highlighted by an RBI single by Cain Brady, and a two-run single by Julian Burrola.
Brady added an RBI double in the fourth for the Cougars.
Johnson had a two-run double in the fifth to put the Cougars up 7-1.
But McQueen made things interesting, scoring twice in the sixth, and bringing the tying run to the plate in the seventh against reliever Chandler Blanchard.
Jared Brandstatter, who was 2-for-2 off the bench, had a two-run double to left to pull the Lancers to within 7-5. But Blanchard struck out Alex Bentley looking to end the game.
Coronado 9, Reno 8 — Chandler Blanchard hit a solo homer to dead center with one out in the sixth to tie the game, and Michael Pollex drove in the go-ahead run with an RBI single as the Cougars eliminated the Huskies (27-9).
"The big hit was Blanchard's home run," Coronado coach David Padilla said. "Wow. That's what he's able to do, and it got us tied up."
Cody Howard added a three-run homer for Coronado, which led 7-1 before giving up five in the fourth and two in the fifth.
"That's what happens when you're in the losers' bracket," Padilla said. "Anything can happen."
Julian Burrola, who singled and scored the go-ahead run, got the final six outs to get the save.
"He hasn't pitched much for us all year," Padilla said. "He threw in the regional tournament and got two wins. He's a guy we can go to, we've just needed him more at third base than we needed him on the bump. But these last two weeks he's been playing great baseball."
And Padilla is glad his team gets a shot at Gorman.
"I'm excited for my kids," Padilla said. "I'm glad they got through the day. Now we get to go up against Gorman, and you never know what can happen."