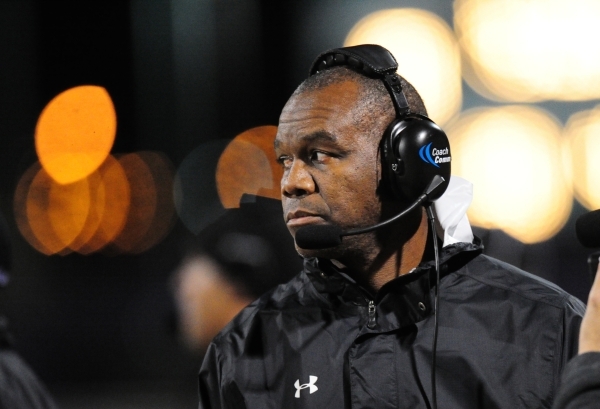 Silverado football coach Randall Cunningham has been waiting all season for his team to put together a complete game.
The Skyhawks picked the perfect time to finally do so.
Quarterback Micah Weber tossed three touchdowns, and the host Skyhawks held Foothill's offense in check over the final three quarters as Silverado earned a 35-21 victory on Friday in the Division I Sunrise Region quarterfinals.
Silverado (7-3), which avenged a 45-22 loss to Foothill during the regular season, meets Southeast League champion Basic in the semifinals next week.
"Our defense? The truth, they're good," Silverado senior Devion Clayton said. "Usually it's the defensive side of the game that helps us win. Today, both sides did great."
Weber finished 13-for-20 for 194 yards and completed all seven of his passes in the second half. Clayton finished with six catches for 156 yards and made three big plays for the Skyhawks, including a 64-yard catch and run for a touchdown late in the first quarter.
Silverado fell behind 14-7 but scored 21 unanswered points as the Falcons (6-4) struggled to maintain their running game and were unable to overcome four turnovers, including three in the second quarter.
Foothill running back Justice Jackson was limited to 83 yards on 24 carries after he gained 236 yards and scored four times in the first meeting.
"People believe in us now," Cunningham said. "It's really an honor to be able to coach the kids."
Silverado's defense provided a spark early in the second quarter as Keikiokalani Misipeka drilled Foothill quarterback Devon Mueller on a blitz and forced a bad throw that Skyhawks linebacker Jeremiah Pritchard returned 30 yards to tie the game at 14-14.
"Jeremiah's a beast," Clayton said.
Silverado took the lead for good late in the second as Clayton made a leaping grab over a Falcons defender for a 44-yard gain to the Foothill 12-yard line. That set up Weber's 3-yard touchdown pass to Devin Ross with 14 seconds left in the quarter to give the Skyhawks a 21-14 lead at halftime.
Clayton added a 33-yard reception midway through the third quarter, and four plays later, Weber hit Seth Georgelos for a 5-yard touchdown that put the Skyhawks on top 28-14 with 4:55 left in the third quarter.
"It's just a blessing being able to contribute to the team, coming out here underrated," Clayton said. "Nobody expected us to win. Just being able to come out and contribute to the team, it means a lot."
Foothill cut the deficit to 28-21 in the fourth quarter as it put together an eight-play drive. After a personal-foul penalty against Silverado on fourth down kept the drive alive, Mueller floated a perfect pass to Brandon Hargis in the corner of the end zone to bring the Falcons within seven points with 9:32 remaining.
But Silverado answered with a six-minute drive to put away the game. Georgelos gained 7 yards on fourth-and-3 from the Foothill 24, and Foothill's Ian McCullough was injured at the end of the play.
Following a 20-minute delay, Misipeka tacked on a 2-yard touchdown for the Skyhawks with 3:34 left to play.
Misipeka finished with 52 yards on 13 carries to lead Silverado.
Contact reporter David Schoen at dschoen@reviewjournal.com or 702-387-5203. Follow him on Twitter: @DavidSchoenLVRJ.
>
Box score: