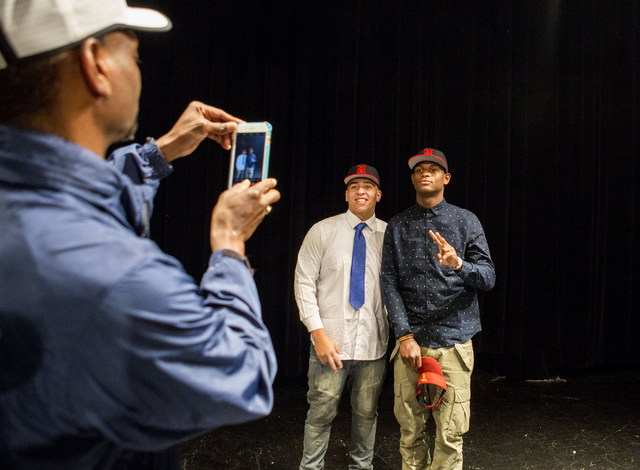 When Tico Rodriguez took over as Desert Pines football coach starting in 2013, he thought the Jaguars' freshman class had a chance to be special.
Four years later on National Signing Day, Rodriguez's hunch proved correct.
Desert Pines put on one of the valley's largest signing day ceremonies Wednesday, as a standing-room only crowd packed into the school's theater to witness 11 players make their college choices official.
Rodriguez expects six to eight more players from the Class 3A state champions to sign a letter of intent before the signing period ends April 1.
"This was a very special group," Rodriguez said. "This moment here, this is the apex of the season. Seeing these kids go to the next level and seeing their families and the excitement and the hope in their eyes, as a coach this is our Super Bowl here at Desert Pines."
The Jaguars' signing class features UNLV-bound quarterback Marckell Grayson along with five players headed to Pac-12 schools: offensive lineman Edgar Burrola and cornerback Antonio Wallace to Arizona, wide receiver Randal Grimes to Southern California and offensive lineman Poutasi Poutasi to California.
Linebacker Tony Fields II previously signed a financial aid agreement with Arizona and enrolled last month.
Wallace was one of the area's most heavily recruited players in the past month. The 6-foot, 170-pound transfer from Spring Valley made an oral commitment to Arizona on Dec. 17 and then received scholarship offers from numerous schools, including Nebraska, Oregon, USC and Utah.
"It was really stressful, because at some point I would have my mind made up and a coach would hit me up and tell me all the things I could do for their program, so it kind of messed me up in the head," Wallace said. "But I sat down and talked to my family and finally made a decision and I stuck with it.
"It's just a great feeling. I didn't think I would make it to this point, but I had a lot of great people supporting me, helping me out. It means a lot to be here right now."
Grimes also drew late interest from Nebraska, among others, but the outgoing, 6-4, 205-pound standout made an official visit to USC in January and never wavered from his commitment to the Trojans.
"It's honestly hard to still believe because it's been a long, rough journey," Grimes said. "I've been over a lot of bumps in the road, so it's a blessing from God that I can finally take my talents and myself to Southern California."
Among those from Desert Pines expected to sign at a later date are running back Isaiah Morris, defensive lineman Jalen Graves, a former Idaho commit, defensive back Eddie Heckard and linebacker Jautae Collins.
The ceremony at Desert Pines was one of several throughout the valley Wednesday, the first day football and soccer players can sign a letter of intent. In all, 20 local football players are expected to sign with Football Bowl Subdivison schools.
Three-time mythical national champion Bishop Gorman had 10 players sign with FBS schools, while Arbor View defensive tackle Greg Rogers signed with UCLA.
Centennial's Jamaal Evans and Savon Scarver signed with Utah State, while Liberty's Ethan Dedeaux inked with San Diego State.
Contact reporter David Schoen at dschoen@reviewjournal.com or 702-387-5203. Follow @DavidSchoenLVRJ on Twitter.