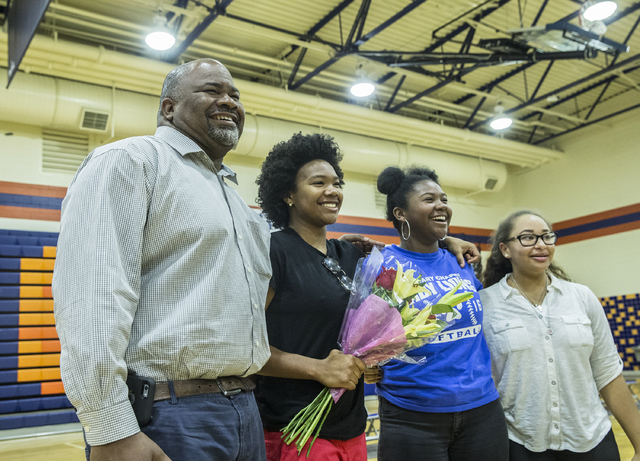 Abbey Archambault will try to help Bishop Gorman's girls volleyball team win its first Class 4A state title this weekend.
But before Archambault heads north, she had a little business to take care of Wednesday.
Archambault, a 6-foot senior outside hitter/middle blocker, signed a letter of intent with Idaho State during a ceremony in Gorman's gymnasium attended by more than 100 friends and family.
Archambault was joined by three other Gorman athletes who signed: baseball player Jarrod Billig (Seattle), girls bowler Leah Glazer (Arkansas State) and girls basketball player Skylar Jackson (Sacramento State).
Gorman baseball player Matt Mitchell signed with Pepperdine in a private ceremony.
"It was a hard journey to get here just because I had so many decisions to make," Archambault said. "My whole team pushed me through the hard times when I thought I couldn't do it, and my team always had my back. It's just exciting knowing I signed, but it was all because of my teammates."
The event at Gorman was one of several around the valley on the first day of the fall signing period.
Centennial boys basketball player Troy Brown Jr. was the highest-profile local to sign, as the 6-7 standout made his commitment to Oregon official. Brown was joined by Bulldogs teammate Darian Scott (Missouri State) in a ceremony at the school's gymnasium.
The Bulldogs also honored five seniors from the girls basketball team that will continue their careers in college, including state player of the year Samantha Thomas (Arizona), Jayden Eggleston (Iona) and Pam Wilmore (New Mexico State).
Archambault, who had the final two kills in Gorman's five-set victory over Shadow Ridge in the Class 4A Sunset Region final Saturday, visited Idaho State in the spring and committed in May. She also considered American, Eastern Washington and Wisconsin-Green Bay.
"Once I went to Idaho State, it was like I was part of a family already," Archambault said. "It's an amazing school. I'm super excited to head up there."
Glazer is the first bowler from Gorman to get a Division I scholarship. She finished second in the Division I state tournament as a junior and had the second-highest average in Southern Nevada at 195.3.
Glazer picked Arkansas State over Vanderbilt, Webber International (Florida) and Wichita State.
"Definitely, it feels like a big thing because I'm making my own mark doing something many people don't get to do," Glazer said. "I always aspired to be a collegiate bowler, so to be able to make it happen is a dream come true."
Billig, a left-handed pitcher, went 2-0 with a 2.47 ERA and eight strikeouts in 5 2/3 innings for the Gaels as a junior.
Jackson, a 5-10 guard, is expected to lead Gorman this season after filling a supporting role last season on a team with three Division I recruits.
While a handful of Gorman athletes made their college choice official, one player from the school who remains uncommitted is senior boys basketball player Charles O'Bannon Jr.
O'Bannon reportedly is considering North Carolina State, Southern California, UCLA and UNLV, and it is not clear whether he will sign during the fall period that ends Wednesday.
Findlay Prep boys basketball senior P.J. Washington is expected to announce his college decision Thursday on ESPNU. Washington has narrowed his choices to Kentucky, North Carolina and UNLV.
Contact reporter David Schoen at dschoen@reviewjournal.com or 702-387-5203. Follow @DavidSchoenLVRJ on Twitter.